IGG Screen Printing and Embroidery Shop
El Reno, Oklahoma
IGG Screen Printing and Embroidery Shop started as a small screen-printing and embroidery shop in central Oklahoma in 2016. It was built by Chris and Yvonne Bruner with their daughter and son-in-law, Josh and Kacy Wyile, in 2016. The original 1,000 square foot building housed a small four-color M&R sidewinder press and a single head embroidery machine. IGG rapidly outgrew the space and eventually expanded to meet the customer's needs.
Our business has grown to fill our a 7500 sq ft state-of-the-art facility, now located in El Reno, Oklahoma. With the needs of our customers and expanding fields of services, we have added much larger equipment to handle the more extensive jobs while keeping quality and lead times at top priorities. We now offer Screen Printing and Embroidery, but we have added Banners, Signs, Car Wraps, Decals, Teams Uniforms, Laser Engraving, Digital Printing, and Promotional Products. If you can put your name on it, we can do it for you.
We run a 10 Color M & R Gauntlet, 4 Single Head 16 Color Melco EMT+ Embroidery Machines, 60" wide Roland XR640 Large Format Printer, and 40watt Universal Laser Engraver.
Without all the help from our Customers, Employees, and Family, we would never have made it this far.
THANK YOU! Team IGG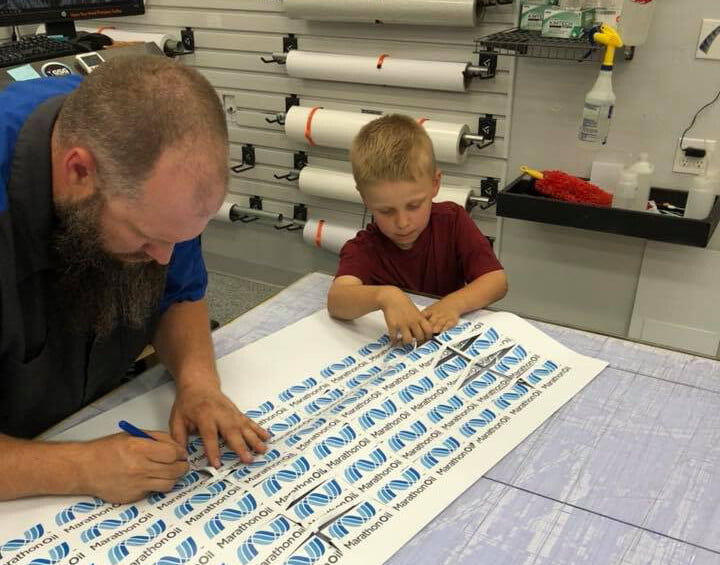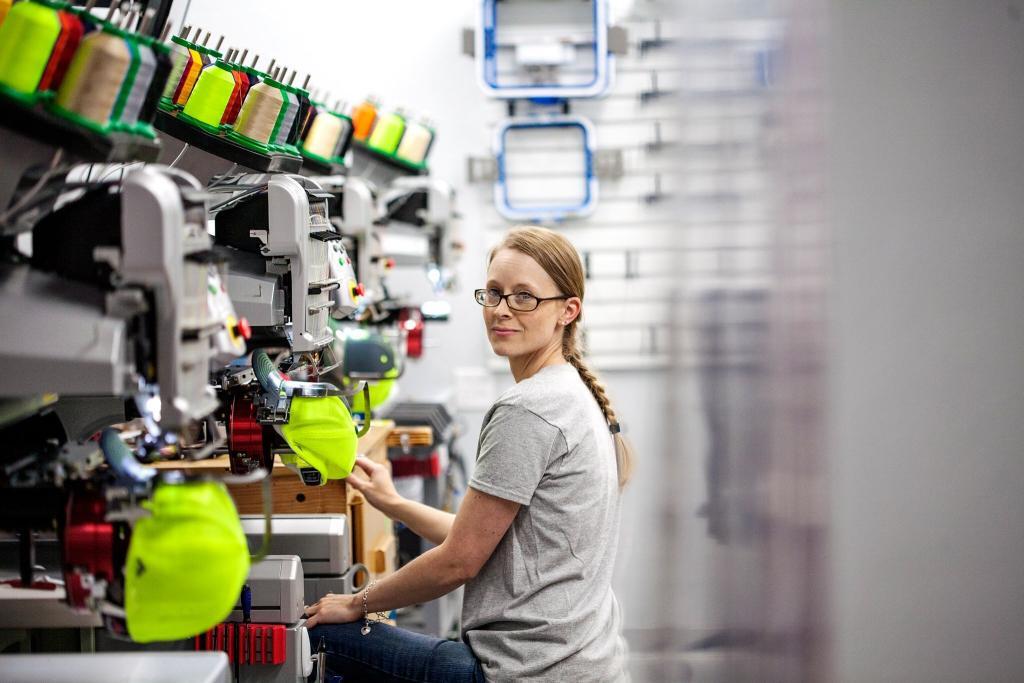 WHO WE ARE
Josh Wylie
COO & Operations Manager
Josh & Yvonne, his mother-in-law, started IGG Screen Printing & Graphics in 2009 as a small shirt company. In 2015, the small shop moved to a more prominent building on the historic route 66 in El Reno, Oklahoma.
Josh Specializes in graphic design, screen printing, digital printing, car wraps, laser engraving, and window perforations. Josh and Kacy have been married for twelve years and have one son, Bryce.
Outside of IGG, they both enjoy coaching Bryce, who is very involved in travel baseball. Josh enjoys hunting and fishing when he is not at IGG or the ball fields.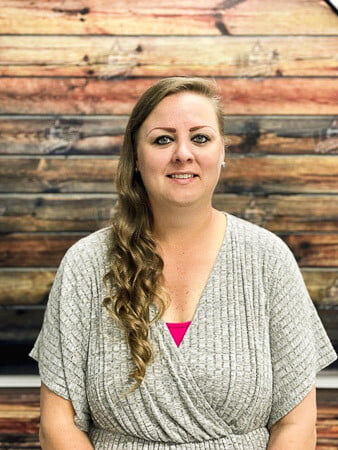 Kacy Bruner Wylie
Head of Sales
Kacy came to IGG in December of 2018 after spending several years in sales. She has been married to Josh for twelve years, and they have one son. Kacy is the daughter of Chris & Yvonne.
She graduated high school in Mustang, Oklahoma, and went to college at Oklahoma State University, where she played softball.
She loves watching Bryce play baseball and is an avid fan of OSU.
Chris Bruner
Co-owner
Chris came to IGG in the fall of 2017 to keep himself busy after his retirement. He basically does cleanup for the whole IGG staff but specializes in inside sales. Chris is married to Yvonne and the father of Kacy Bruner.
Outside of work, Chris loves to play music and watching his grandson play baseball. He is an active member of Victory Christian Fellowship in Yukon, Oklahoma.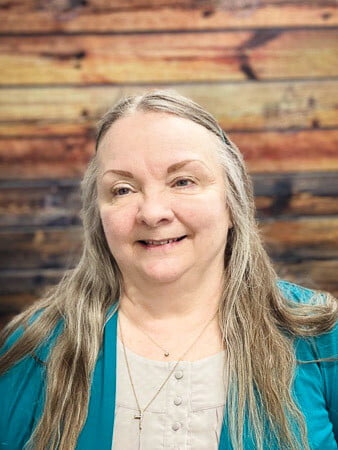 Yvonne Bruner
Co-owner/General Manager
Yvonne and Josh began Inspired Gifts & Graphics in 2009, which officially became IGG Screen Printing & Graphics in 2015. Yvonne and Josh have been together from the very beginning. She loves tending to her garden and is an active member of Victory Christian Church Fellowship.
Yvonne is also an active member of the El Reno Chamber of Commerce, the chamber treasurer, and a board member.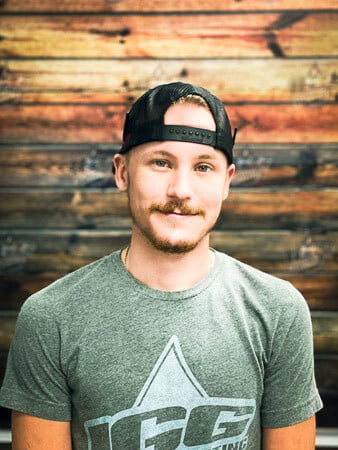 Jadin Jones
Screen Printer
Jadin has been with IGG for two years after spending time in the military. Jadin and his wife raise their kids in El Reno, where he went to school and graduated. He loves spending time with his family and friends outside of work.
Other than screen printing, his biggest passion is working on motors and building cars.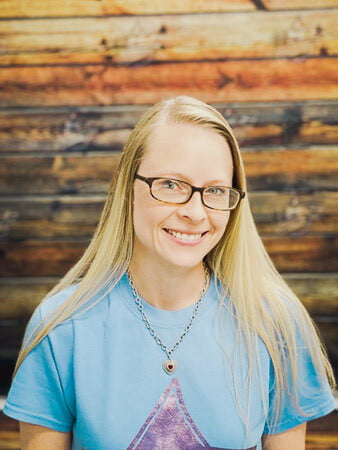 Andrea Cowell
Head of Embroidery
Andrea has been with IGG since 2016. What is incredible about Andrea is that she had no other previous experience before IGG. She is married with four kids and commutes from Amber, Oklahoma, every day.
Outside of work, she loves to take care of her garden, as well as oil and acrylic painting. In addition, she is an active member of the United Methodist Church in Pocasset.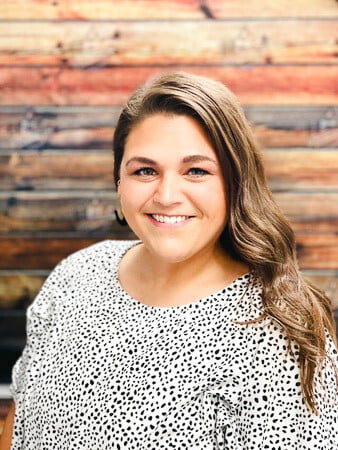 Morgan Bratcher
Marketing Coordinator/Digital Sales
Morgan comes to IGG after spending seven years in the classroom as a high school teacher. She has previous experience as the marketing director for a professional motorsports team. Morgan has been married for nine years. She and her husband have one child, Jaxon.
She attended Chickasha public schools growing up and graduated from the University of Science and Arts of Oklahoma with a bachelor's in history.
Outside of IGG, she loves to spend time watching her son play baseball, and her husband competes in powerlifting.